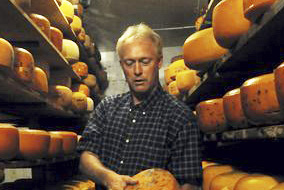 Stuart Veldhuizen
Growing up on a dairy farm in Minnesota equipped Stuart with the knowledge and love for the land and cows. A dissatisfaction with the current trends in commercial dairying caused Stuart to ask what could be done with a small family-run dairy.
In January of 2000, Stuart and his wife, along with their seven children, embarked on their cheesemaking journey. It was a dream that, with hard work and persistence, became a reality. Starting with small beginnings, their operation began with twenty baby calves, which they raised to milking age. They started with one variety of cheese and have continued to grow – currently offering over 15 varieties of artisan raw milk cheeses.
Today, with one child still at home, and five grandbabies (so far!), Stuart and Connie, their family, and Stuart's parents continue to work together on the farm to produce quality, real food for your table.
JOIN THE MAILING LIST
We promise we won't spam you or share your contact information!
Get In Touch With Us
Have an idea, question, comment, or concern? We'd love to hear from you!