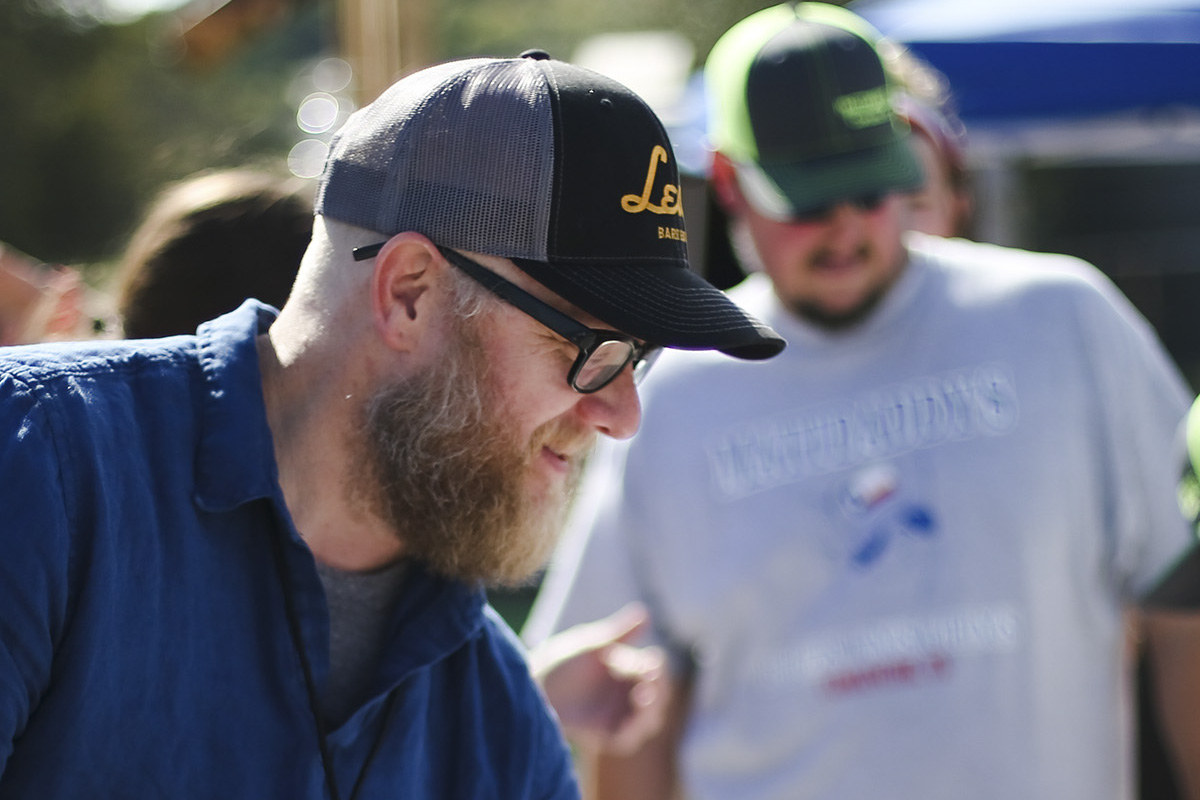 M. Brady Clark
written by Lindsay Reece for Southside Sanctuary
When people ask M. Brady Clark how he ended up working in design, he simply says, "I knew the right people." If you pry a little farther, he might attribute his success to Guillermo, the 6 foot long taxidermy shark that acts as his brainstorming partner. Here's the real story: the right opportunities mixed with an incredible gift of creativity brought Clark to where he is now.
After spending his entire career in Southern California, Clark and his family decided a new adventure was in order and wound up in Austin. Clark worked for IF Marketing and Advertising, but freelance clients dominated his time as the call to step out on his own grew stronger. Two months ago, this talented designer gave in to the call and entered the world of freelance design full-time. Clark's natural creativity runs in the family. His mother worked as a teacher, and his dad as a chef. As a child, Clark's passion for art ran rampant, but he never expected the opportunity to do what he loves for a living.
"I've been given a lot of talents and creativity is a big one," Clark said. "My work is simply to use my God-given gift to make things better and more beautiful."
Clark's first big break in the design industry came when The Militia Group, an independent record label, offered him a graphic design position. Clark revisited his love for art while in college, but dropped out of Cal State Long Beach after the .com boom came calling. He continued freelance projects on the side, which proved beneficial when he was laid-off. Soon after, his growth as a designer took off after becoming the sole graphic designer at the record label. The Militia Group put Clark in charge of the creative side of projects like CD cover lay outs, business logos, t-shirts and posters which gave him plenty of opportunities to practice his skills as a designer. All the practice paid off when his talent got him noticed by clothing giant, Billabong.
After an intense interview process, Billabong hired Clark as the men's wear designer. He jumped on the chance to hone his creative skills there for the next three years.
"Working for Billabong was definitely the biggest shaper creatively for me," Clark said. "I learned so much from the people I worked with and use what I learned from that chapter on a daily basis." Clark never had a dull moment as he learned what to design to fit the style of Billabong. He designed the trims, hang tags, labels and buttons, for the men's clothing line, and also had the opportunity to design the prints for board shorts and Hawaiian shirts. But, learning how to create a design from start to finish proved the most valuable skill Clark learned for his future career. "I got to see projects all the way through from conception to execution. The more practice I got, the quicker I became at the process." Clark said. "Growth also came from learning to self-edit along the way, which in the end creates a better final product."
Since the move to Austin, Clark continues to excel as a designer and develop his personal style with the repetition of clients, but he will be the first to say that he is far from perfect. "I've gotten to where I am creatively through practice, practice, and more practice. I've also failed a lot which helps the learning process," said Clark. Clark's search for his overall "style" still continues. His biggest challenge in this endeavor is to design with his client and project in mind first without adding in too much of his own aesthetic.
Clark's clever style shines through not only in his work, but in his daily life. Whether he's using his creativity to create the hottest summer shirt, fix up his 100 year- old bungalow in Georgetown, concoct his latest bacon dish or design his next tattoo, Clark's dynamic personality will serve him well in Austin.