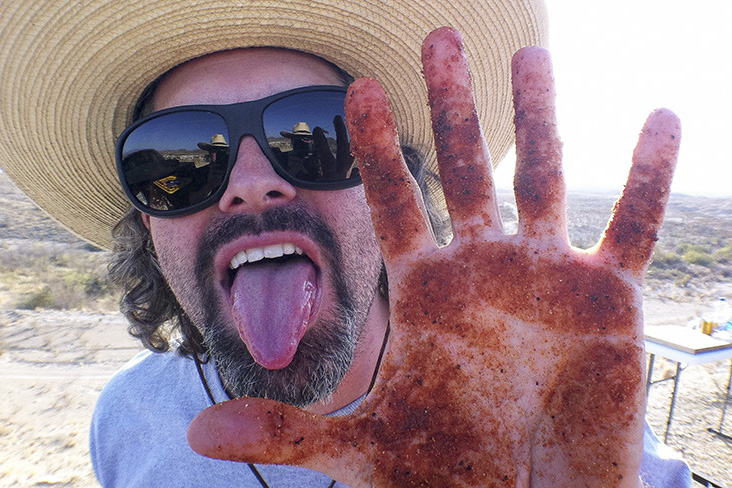 Steve Gaçonnier
[Gah-sewn-yay] to make it a little easier.
Steve has been passionate about BBQ, chili and food in general ever since his Father-In-Law, Gene Ladd, bought him his first smoker. Gene showed Steve how to make it right, but as creativity would have it, Steve always tried something new with his recipes. Fun fact: Gene's brisket was soooo good, that he once had someone steal it off his smoker on a quiet Sunday afternoon. Back to Steve. Steve has flipped well over 1000 crepes for charity, cooks in the last chance chili cook-off in The Original Terlingua International Champion Chili Cookoff since 1908. OK, maybe not that long, but awhile. He also has judged and been a contestant in KNON's Gumbo cook-off.

He loves road tripping around Texas with his super awesome beautiful wife, Kristy. She is a fantastic cook and has been known to fix Steve's culinary messes from time to time. He has been seen hanging out with "The Meat Guy" aka protein provider to the stars chefs of Dallas. He has won more trophies for his work in Television and Film than cooking. He directed and produced, "341 – Stories of the State Fair of Texas" helping tell stories of concessionaires and the Big Tex Choice Awards. A head judge at Chilanthropy for chili, he has tasted the best and the spit worthy worst and still survived the next day. His most recent culinary adventure took him to Barcelona Spain where he and his wife feasted on one of the top meals of their life. Now, let's talk BACON! Really, does he need to say anything more than he is looking forward to tasting all of the creative and amazing twists at Bacon Bash 2018.
JOIN THE MAILING LIST
We promise we won't spam you or share your contact information!
Get In Touch With Us
Have an idea, question, comment, or concern? We'd love to hear from you!