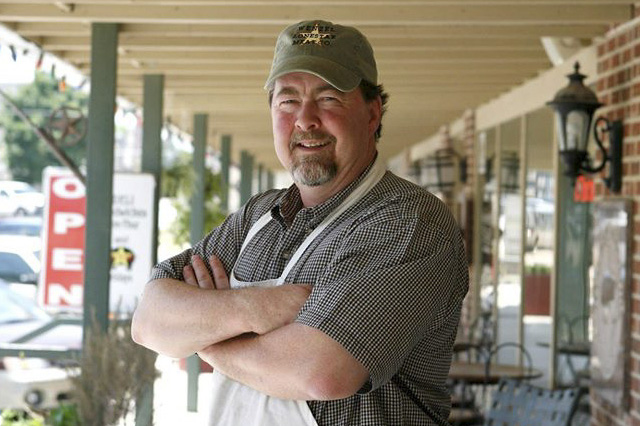 Kent Wenzel
"One day, I was drinking too much Jack Daniels Whiskey in that office there," Kent waves his arm over his head and behind him towards his private office. "I don't know if God was talking to me or Jack was talking to me. And, "Bite My Butt" came to mind. I was gonna bring pork into the BBQ market. Pork Butt Fridays. Around these areas, pork, at that time…" he trails off. He starts to get excited and shifts gears.
"BBQ really boomed, what, 8-10 years ago? People were thinking in terms of BBQ as beef. I was thinking about Tennessee and the Carolinas. I said, 'you know what, we're gonna try this pork butt'. 20-22 hours of cooking this pork butt. Wonderful, hot, juicy, & tender butts," he looks at me sideways, and waits for me to catch what he just said. He's proud of his humor, and we share yet another big laugh.
Here in these parts, I know 'Bite My Butt' Pork Butt Fridays are a big deal. He's kind of famous for this. I know it's one of those get-it-while-you-can sort of things. So, I ask him, "Kent, how did it get so popular?"
He responds, "I made flyers with 'Bite My Butt' and the pig on them. I delivered them to everyone in town. You get the town of Hamilton on board, and it will spread. I made signage to stick on the highway that said 'Bite My Butt'. I put a big sign on Highway 281. Around 6 or 6:30 in the morning, I'd go stick out those signs every Friday, every time. And, then I'd pick them up every Friday evening."
"About 30, 60 days come by and my mole came in and said "I need to talk to you, Wenzel. With this 'Bite My Butt' thing going on, the Baptist or Church of Christ women are mad at you." He ducks his head a little lower and a little closer, and he whispers, "you know… every business has a mole, right?" I nod my head in agreement, but I totally didn't know that.
He continues, "They'd [Baptist or Church of Christ women] sneak in and buy four or five sandwiches and leave. Austin Chronicle put in a nice plug for me. Believe it or not, people were here waiting in lines out the door. People drove in from Austin just for that pork butt sandwich."
Something he neglects to tell me but I already know is that Forbes has actually written a little something about his 'Bite My Butt' campaign. That may have had something to do with it's success, as well. You can read it for yourself HERE.
JOIN THE MAILING LIST
We promise we won't spam you or share your contact information!
Get In Touch With Us
Have an idea, question, comment, or concern? We'd love to hear from you!